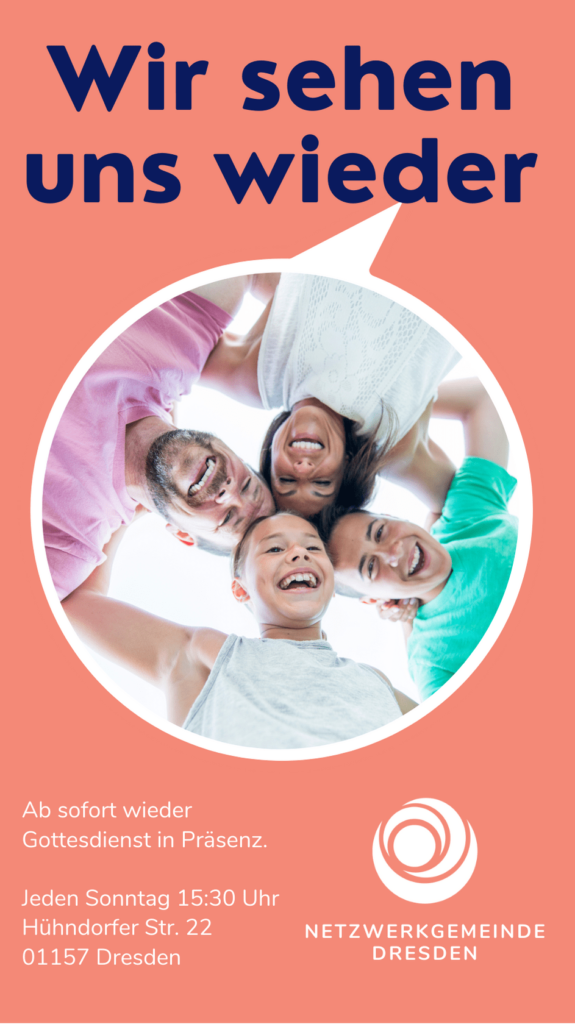 New time – new location
Finally, the time has come
Network Church Dresden is going to have meetings with attendance.
We are overgrateful to move towards attendance. In addition, with these meetings we can bring our new location into the loop.
For the first time, we are going to meet at Methodist Church on Hühndorfer Str. 22.
Furthermore, our service is at a new time of day: we are meeting at 3:30pm for worship, witnessing, sermon and fellowship.
This postponement contains advantages and disadvantages. Basically, we see this step as the first of many in bridging a time of a couple of years. At the end of bridge, we will have our own facilities, where we can celebrate Sunday service midmorning.
Measures due to COVID-19
As we are still in the midst of a pandemic, we have to take certain measures:
Every one being 12 years of age or older has to wear a filtering facepiece whilst being indoors.
Please keep a distance of 1,5m on the whole area of Hühndorfer Str. 22.
We have to currently refrain from our after-service church café.
We ask all participants kindly to take a voluntary Antigen-test before the services. In case of an infection, all participants need to be known, that is why we keep an attendance list at the entrance.
You find our detailed hygiene concept here.
Children's service
During worship time, children will take part and sit with their families.
After worship time, there are two children's groups:
3 – 6 years – Arche Noah (Noah's arch)
6 – 12 years – Bibelentdecker (bible explorers)
For children age three and under, there is a care room right next to the congregation hall with live broadcast of the service.
Children's programme will happen outside most of the time. On the one hand, in the garden at Hühndurfer Str. 22, on the other hand, on the courtyard or patio at Pennricher Str. 31.
If it's raining or too cold, the children's service will take place in the children's rooms at Hühndorfer Str. 22 and the congregation room at Pennricher Str. 31.
As we are not allowed to offer food and drinks, please make sure your children have enough eaten and drunk before the service or give them something to carry along.
After the service, all children gather at Hühndorfer Str. 22 and the parents can pick them up there.
We are very glad that we can celebrate our Sunday service with being present again.
We send a warm welcome to all who would like to get to know us closer. We are excited to get to know you, too!